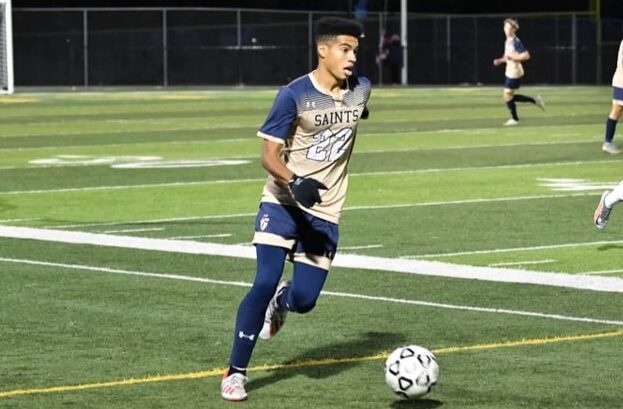 Posted On: 10/18/21 2:12 AM
Another week, and another major undefeated streak falls to the wayside.
This time, Noblesville (Ind.) girls, which was seeking a third straight state title and undefeated season, had its hopes dashed by state No. 2 Homestead (Ind.) in a 4-2 playoff decision. Noblesville entered the contest on a 54-match undefeated streak (50-0-4), which dated back to a postseason shootout loss in 2018. The last time Noblesville actually lost a match in regulation was Sept. 1, 2018, a 2-1 setback to Sacred Heart (Ky.), some 64 contests ago.
It was no surprise the Homestead-Noblesville game would be tight. The teams entered the contest with a combined 34-0-1 record. Noblesville was ranked No. 1 in the state, region and nation. Homestead was No. 2 in Indiana, No. 2 in the region and No. 6 nationally. Penn State-bound Amelia White, who recently was called up for the U.S. Under-20 National Team camp, scored three goals for Homestead. Homestead is one of three new girls region No. 1 teams this week. Hingham (Mass.) takes over the top spot in the Northeast after former No. 1 St. Joseph (Conn.) tied an unranked opponent. Portland Jesuit (Ore.), which saw its then national-best 78 match undefeated streak end a week before, returns to No. 1 in the Northwest this week.
On the boys side, the Northeast No. 1 spot changes hands between Massachusetts schools as Hingham (Mass.) takes over following a tie by Nauset (Mass.); SLUH (Mo.) returns to No. 1 in the Midwest after Maple Grove (Minn.) made an early playoff exit following a perfect regular season; and La Cueva (N.M.) posted a 3-0 win over then state No. 2 Sandia (N.M.) to move to the top of West region, ahead of Arapahoe (Colo.), which tied a match last week.
For the regional rankings, VISIT THE FULL RANKINGS PAGE (Note: The Top 25 rankings are updated on Tuesdays.
The state rankings also are updated. In order to view the state rankings, visit that state's home page and select boys or girls rankings.
New State No. 1s this week are BOYS – Boise (Idaho), Hingham (Mass.), Lakeville South (Minn.), McDonogh (Md.), North Oldham (Ky.), and Southwest Guilford (N.C.); GIRLS – George Washington (W.Va.), Homestead (Ind.), Portland Jesuit (Ore.), Ramapo (N.J.), Sioux Falls Roosevelt (S.D.), and Skyline (Utah).
STATE CHAMPS: South Dakota became the second state to close out its fall season, crowning champions in boys and girls Class AA and A. On the boys side, AA Yankton and A Sioux Falls Christian won titles. On the girls side, Sioux Falls Roosevelt pulled off a stunner to win the girls Class AA crown while West Central won Class A. Roosevelt had a losing record and only won back-to-back matches once during the regular season but won four straight playoff contests to claim the title.